Our TARDIS Tours have been an exhilarating way to spend a day with fellow Doctor Who fans in Minnesota for the past two years. While COVID is keeping us from gathering in person this year, we're excited to be bringing the TARDIS' to you in this new, virtual format.
Don't leave the breaks on! Our #WhoItYourself LIVE event "TARDIS Day" starts at 9AM central time on Saturday, July 11. Take a journey with us on the CONsole Room Facebook page and Twitter throughout the day as we travel virtually to TARDIS' all around Minnesota. New TARDIS' will materialize every 15 minutes, with activities and snack breaks built in, just like the real deal!
TIP: Follow along with our EXPLORER TRAVEL LOG to make sure you get the most out of your digital travels!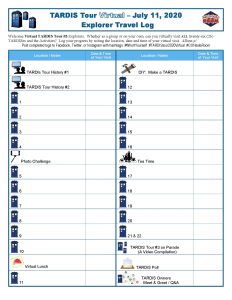 Then join us for a LIVE Meet & Greet/Q&A with the TARDIS owners at 4PM, streaming on our YouTube channel and on the CONsole Room Facebook page, to learn about their TARDIS journeys and ask questions.