Commemorative Shirt
---
Whether you're joining us in person or virtually, you have a way to remember the fun from our convention with a commemorative 2023 souvenir shirt. Aligned with our theme, "Ten Years in the TARDIS," the shirt design features an astronaut climbing through a timey wimey spaceship roundel and out onto a different planet. The design is available in six different shirt styles with youth sizes up to 5X (size selection varies depending on the style).
Keep reading to learn more, or follow the link below to order directly from CustomInk!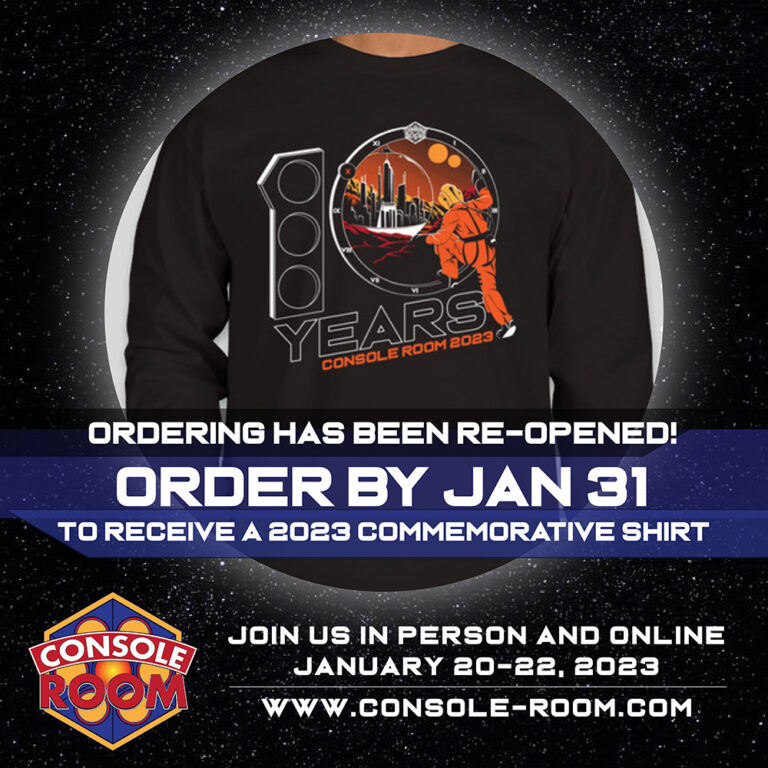 FAQ
---
If you have additional questions not addressed below, please feel free to reach out to us at publications@console-room.com
When can I order a shirt?
Shirts for ROUND ONE were available to order through Sunday, January 1, 2023 for those who wanted the best chance of receiving their shirt in time for the convention.
Shirts for our ROUND TWO are available to order through Tuesday, January 31, 2023. Any shirts ordered during this second window will not ship until after the convention.
How do I pick up my shirt?
If you are attending the convention in person AND are ordering during the first round (which will end January 1, 2023), you will have the option to pick up your order in person or ship directly to you. If you choose "Pick up from Amber Raden" during the checkout process, your shirt should be ready for you to pick up at Registration during the convention.
If you are attending the convention virtually OR ordering during the second round, you must have the your order shipped to you directly through CustomInk. Choose "Ship directly to me" during the checkout process. You will be able to provide a shipping address to CustomInk.
When will my shirt arrive?
The estimated date we've been given for the FIRST ROUND is Wednesday, January 18. Please note that this is not a guaranteed date.
The estimated shipping date for the SECOND ROUND is Thursday, February 16.
What if I purchased a VIP registration for CONsole Room 2023?
VIP memberships receive a shirt as a part of their registration and were given the option to choose a shirt size/style when purchasing your registration. Some of those styles have been impacted based on shirt style/size availability. If your choice has been impacted, or if you did not select your choice when purchasing your membership, we will be reaching out to you. Please note that there will be an additional fee for VIPs who would like the hoodie.
What happens if we don't reach the 50 item goal for the order?
CustomInk will not print items that do not reach a certain minimum order quantity. In our case, we have a minimum overall quantity of 25 for the shirts (Please note that this is not per style but for all shirts overall.) If we do not reach this minimum order quantity, all orders will be cancelled and refunded automatically through CustomInk.
What happens if we DO reach the 50 item goal? Can I still order?
You can certainly still order if we reach the 50 item goal on the page! There is not a cap on the number of items that can be ordered.
Why are these being called fundraisers on the CustomInk site?
Our overall goal with setting up these ordering systems was to create an easy way for all attendees, whether virtual or in-person, to purchase a commemorative shirt in a style of your choosing. However, CONsole Room Events, our 501(c)(3) nonprofit, does receive a very small portion of sales which will go right back into creating wonderful content for the convention.