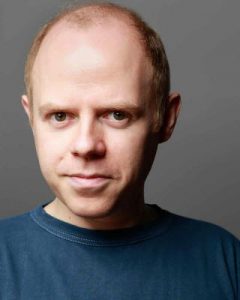 DAN STARKEY studied at Cambridge University before going on to train at the Bristol Old Vic Theatre School, where he won the Peter Ackerman Prize for Comedy.
Dan is best known to Doctor Who fans as Strax, but has also played the majority of the Sontaran race on screen and on audio for Big Finish Productions. In 2014 he was rewarded for nearly seven years of work in a rubber mask by being allowed to play Ian the surly elf with his actual face in the episode "Last Christmas", opposite Nick Frost's Santa Claus. He has co-hosted the BBC Doctor Who Prom at the Royal Albert Hall, and given his voice to numerous Doctor Who computer games. Also made by BBC Wales Cymru, Dan has played hobgoblin Randal Moon in three series of CBBC's Wizards vs. Aliens, created by Phil Ford and Russell T. Davies. He also appeared in the final story of The Sarah Jane Adventures as Plark the light sculptor.
Dan has also worked extensively in theatre, in roles from Shakespeare to Dostoyevky and as an evil reindeer in The Lion, The Witch and the Wardrobe. He has also been a company member and occasional writer for the mighty Fitzrovia Radio Hour since 2009.
He won Best Male Guest star in the Doctor Who Magazine Awards 2013, was long-listed for Best Male Performance in the 2012 Off West-End Theatre Awards, and along with his college team from Trinity Hall, Cambridge won Christmas University Challenge 2014. He's still feeling quite smug about that last one.
Dan has been a member of the BBC Radio Drama Company, and appeared in over 80 radio plays and broadcasts. Notable appearances include The Archers, The Expedition of Humphry Clinker, Wordsmith, The Incomparable Witness, Dickens Confidential, The Late Mr. Shakespeare, Scoop, Miranda Hart's Joke Shop and Henry VIII. He has also recorded numerous audio dramas for Big Finish Productions.