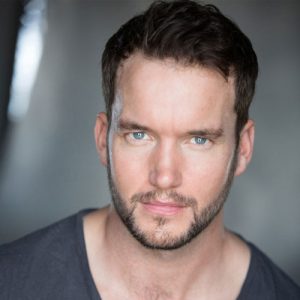 GARETH DAVID-LLOYD
Gareth was born in Newport South Wales. He first became interested in the arts at the age of six when he discovered "Hammer Horror" movies. He joined his first youth theatre at the age of 10 where he played a vampire in a play devised by the young cast. After playing a number of classic leads including "Henry V" and "Macbeth" in his teens, he won his first agent playing "Macheath" in "The Threepenny Opera" at the age of 21. Gareth's first television appearance was with Stephen Fry in the television comedy "Absolute Power" as a Welsh soccer player. It was three years later that was cast as the dark and mysterious Ianto Jones in BBC Wales' Dr. Who spin off "Torchwood" which earned him two more seasons and a Cardiff Bay shrine. Gareth's post-Ianto projects include SyFy channel's "Red Faction - Origins," self-produced indy project "The Casimir Effect," and a second album with his prog-rock band Blue Gillespie.
FRAZER HINES
**Please note that Frazer's panel on Friday, January 15 is live only, it will not be recorded.**
Born in 1944, Frazer had already appeared in dozens of films and TV series before he turned 20. These included popular series such as Doctor Finlay's Casebook and Z Cars plus working with Charlie Chaplin in A King In New York. In 1964, he appeared in an adaption of Smuggler's Bay with Patrick Troughton. Just two years later, Frazer was cast as Scot Jamie McCrimmon in the final historical Doctor Who serial of the 1960s, The Highlanders. He was originally just a character in this single serial, but Frazer made such an impact on cast and crew that a hasty re-write and re-shoot of the final moments of the serial was done to include the Doctor taking young Jamie aboard the TARDIS.
James Robert McCrimmon would go on to be the longest-serving companion of the series, and one of the most beloved. When Hines heard that Troughton planned to leave Doctor Who after three years, he quickly altered has plans and left alongside Troughton and Wendy Padbury to bring the black-and-white era of the series to an end.
Hines was soon back in the public eye with the new series Emmerdale Farm in 1972. Emmerdale is a soap opera set around a West Yorkshire farm. Frazer again proved his staying power by starring in this series for over twenty years and in the process his portrayal of Joe Sugden became one of the top 100 British soap characters of all time.
Frazer returned to Doctor Who in the eighties in both The Five Doctors and The Two Doctors. He would also later play Sir Fletcher Gordon in Outlander — a TV series based on a book inspired by his performance on Doctor Who! He has also had an extensive theatre career, including many Christmas pantomime performances.
Hines originally released his autobiography, Films, Farms and Fillies, in 1996. This was republished in 2011 by Telos Publishing as Hines Sight. In 2013 he also released Fifty Shades of Frazer, a photobook illustrated with over 150 photographs from his life and career.
NEVE MCINTOSH
Neve is best known in Doctor Who as playing Madame Vastra, Silurian leader of the Paternoster Gang.
Theatre credits include: The Events (Edinburgh), Betrayal (Citizens Theatre),The Lady From The Sea (Royal Exchange Theatre), Proof (Perth Theatre) Three Women (Edinburgh Fringe), The Merchant of Venice (Edinburgh Lyceum), Great Expectations (RSC), The Recruiting Officer (Lichfield Theatre), Don Juan (Sheffield Crucible), Victoria (RSC), Outside On The Street (The Gate), Run For Your Wife (Perth Theatre), When We Were Women (Perth Theatre), The Trick is To Keep Breathing (The Tron Theatre) and The Barber of Seville (Arches Theatre).
Film credits include: The Be All and End All (Bruce Webb), Salvage (Lawrence Gough), Spring 1942 (Uri Barbash), One Last Chance (Stuart Svaarsand), Gypsy Woman (Sheree Folkson), The Trouble With Men and Women (Tony Fisher), Plunkett & Macleane (Jake Scott) and The Leading Man (John Duigan)
Television credits include: Ripper Street (Tiger Aspect),  Dracula (Carnival Productions), Doctor Who (BBC), Case Histories (Ruby Films), The Accused (BBC), Single Father (Red Productions), Inspector George Gently (Company Television), Law & Order: UK (Kudos), Casualty (BBC), Sea Of Souls (Carnival Television), Low Winter Sun (Tiger Aspect), Ghost Squad (Company Television), Murder City (Granada TV), Miss Marple (LWT/ITV), Bodies (Hat Trick), Inspector Lynley Mysteries (BBC), Trial & Retribution (La Plante Productions), The Hound Of The Baskervilles (BBC), Doc Martin (Sky), The Fear (Noel Gay Television), Lady Audley's Secret (Warner Sisters), Gormenghast (BBC), Psychos (Kudos) and Taggart (STV)
DAN STARKEY
Dan studied at Cambridge University before going on to train at the Bristol Old Vic Theatre School, where he won the Peter Ackerman Prize for Comedy.
Dan is best known to Doctor Who fans as Strax, but has also played the majority of the Sontaran race on screen and on audio for Big Finish Productions. In 2014 he was rewarded for nearly seven years of work in a rubber mask by being allowed to play Ian the surly elf with his actual face in the episode "Last Christmas", opposite Nick Frost's Santa Claus. He has co-hosted the BBC Doctor Who Prom at the Royal Albert Hall, and given his voice to numerous Doctor Who computer games. Also made by BBC Wales Cymru, Dan has played hobgoblin Randal Moon in three series of CBBC's Wizards vs. Aliens, created by Phil Ford and Russell T. Davies. He also appeared in the final story of The Sarah Jane Adventures as Plark the light sculptor.
Dan has also worked extensively in theatre, in roles from Shakespeare to Dostoyevky and as an evil reindeer in The Lion, The Witch and the Wardrobe. He has also been a company member and occasional writer for the mighty Fitzrovia Radio Hour since 2009.
He won Best Male Guest star in the Doctor Who Magazine Awards 2013, was long-listed for Best Male Performance in the 2012 Off West-End Theatre Awards, and along with his college team from Trinity Hall, Cambridge won Christmas University Challenge 2014. He's still feeling quite smug about that last one.
Dan has been a member of the BBC Radio Drama Company, and appeared in over 80 radio plays and broadcasts. Notable appearances include The Archers, The Expedition of Humphry Clinker, Wordsmith, The Incomparable Witness, Dickens Confidential, The Late Mr. Shakespeare, Scoop, Miranda Hart's Joke Shop and Henry VIII. He has also recorded numerous audio dramas for Big Finish Productions.
CATRIN STEWART
From theatre to television to film and radio, CATRIN STEWART has done it all. Catrin is best known in the Doctor Who universe for her role as Jenny Flint, member of the Paternoster Gang and wife to Madame Vastra.
Her theatre credits include roles in Cat on a Hot Tin Roof, the title role in Romeo and Juliet, and a role in The Lady from the Sea that earned her an Ian Charleson Award nomination in 2011.
Her roles on the big and small screens have included Ana/Nan in The Library Suicides, earning her an EIFF award for Best Performance in a British Feature Film. as well as roles in A Last Christmas for the Ant, Frail, and Misfits.
Her roles in radio include Nansi in Night Horse, Calamity Jane in It Ain't Over til the Bearded Lady Sings, and Lauren in Rock of Eye.