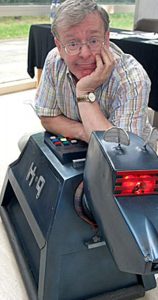 JOHN LEESON is best known in the Doctor Who universe as the voice of K9, the Doctor's robotic dog companion.
John voiced K9 from 1977-2010 on Doctor Who, K9 and Company, The Sarah Jane Adventures, and K9. He has also voiced the character for Big Finish and BBV Productions.
Other credits include appearances in Blake's 7, the giant Biggum in Jigsaw, Bungle in the children's television series Rainbow, and the Space Gypsy characters on Children's UK hospital radio. He also contributed to the charity reference book Behind the Sofa: Celebrity Memories of Doctor Who.
We are thrilled to welcome John to CONsole Room in 2020!